Kelley and Reilley McKinlay on retiring from Alberta Ballet
Following two long, celebrated careers of dancing together, husband and wife duo, Kelley and Reilley McKinaly will take their final bows at the end of this season.
Thousands of performances and hundreds of roles later, Kelley's final performance with Alberta Ballet will be in Christopher Anderson's Cinderella, the final production of the season, marking the end of his 20-year career with the Company.
In March, Reilley will take her final bows after 14 years with the Company at the end of the world premiere of PHI, Jean Grand-Maître's ballet featuring music by David Bowie. She has accepted a new role with the Company as Artistic Coordinator.
Kelley and Reilley met and married while working together as Alberta Ballet dancers. They now have two beautiful children – a three-year-old daughter and one-year-old son.
Let's hear it in their own words what brought them to the decision to retire together.
Q: What led to the decision to retire at this time? Was retiring together always the plan?
A: Kelley - Well, it's been 20 years. What led to the decision to retire? A whole lot of things, I guess. Taking a step away from dance during the pandemic allowed me to see that I want to be able to spend more time with my family. Also, I have so many interests in my life, but I am a person that focuses 100% on the job at hand so I can do it to the best of my ability. This will now give me the time and opportunity to explore so many other things.
Reilley moving on gave me the courage to make the same move. It was never a plan to retire with her, but it feels so special that myself, my wife, and Jean, my boss and dear friend are all retiring at the same time. Twenty years is a long time. My entire career has been here with Jean and it's kind of poetic that the three of us are retiring together.
A: Reilley - Retiring at the same time as Kelley was never a plan. It's kind of sweet it worked out that way, but it was never something we sat down and mapped out. My retirement happened rather suddenly and not because of an injury or anything like that. While I was on maternity leave with my son, I had time to contemplate what I wanted to do after dancing. I came to the conclusion that I wanted to stay in the arts but in a more administrative position. Once I started back dancing after this maternity leave, I knew I was ready to embrace change soon. It was just a feeling I had.
After discussing matters with the Artistic Directors, I was offered a position with the Artistic Team as Artistic Coordinator at Alberta Ballet starting almost immediately. It was the ideal situation. Although I never thought my transition out of dance would happen so soon, it is the right time. With a one-year-old and a three-and-a-half-year-old, the performance weeks and long rehearsal days are hard, especially when both parents live that life. I was very happy to accept and start the next part of my journey.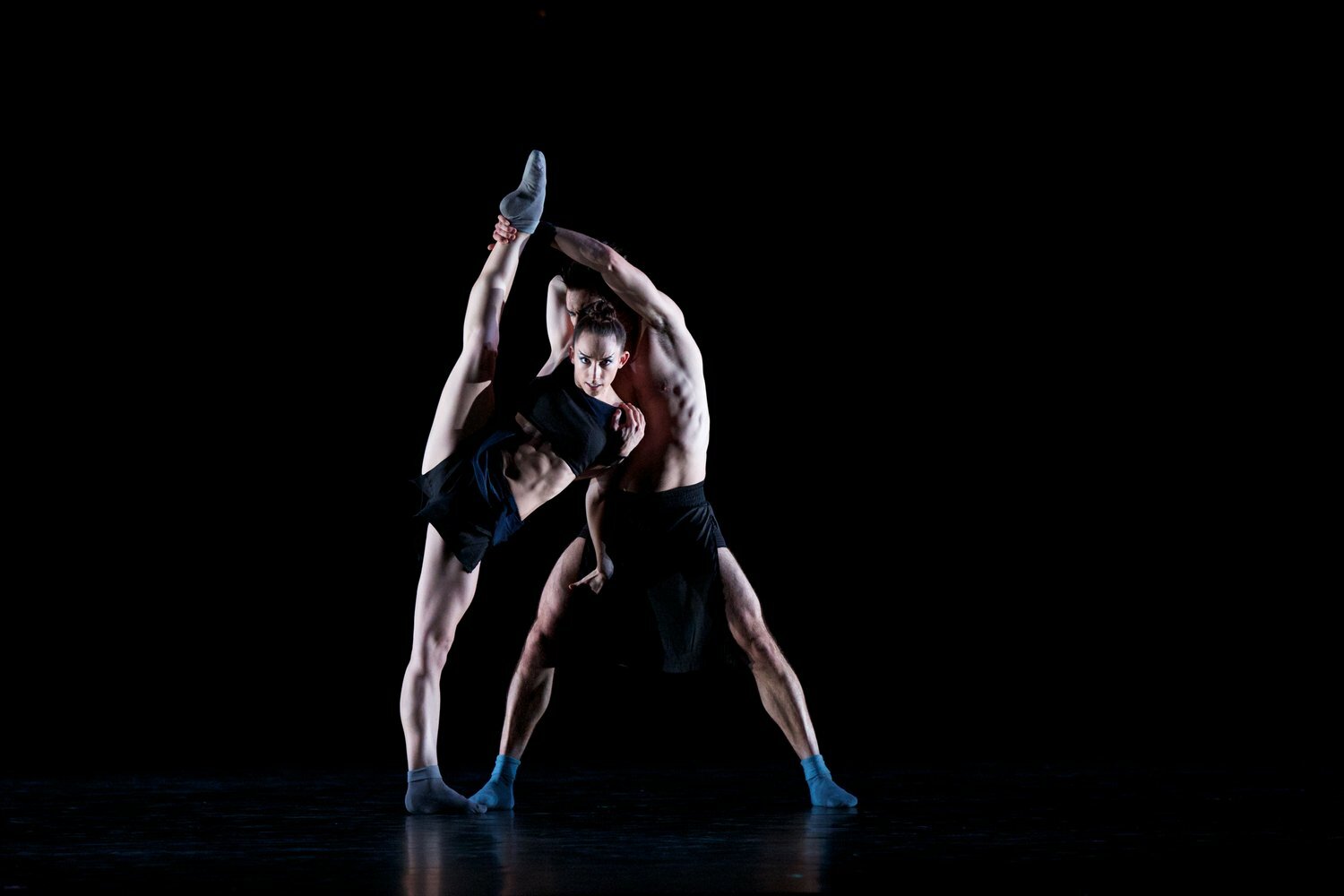 Reilley and Kelley performing in Wen Wei Wang's Futureland. Photo by Paul McGrath.
Q: What are some of the highlights of your career with AB? What are some of your most memorable performances?
A: Kelley - I have so many highlights from my career with Alberta Ballet. They range from all the places I have travelled across the world for dance to more memorable performances than I can even count. The biggest highlight is probably all the friendships I made during my time. This company has always been a family, and those people that touched my life over the past 20 years have formed me into the person I am today. I am so grateful for having gotten to know each and everyone of them. Best of all, it's where I met my wife and best friend.
A: Reilley - I have many moments and roles from my career that I will treasure, but my favorite moments on stage and in the studio have been while dancing with Kelley. There is nothing like dancing with someone you trust so completely.
Q: What would you like to say to the fans, subscribers and donors who have supported your careers?
A: Kelley - If it weren't for all the people who came to the theatre to support us, we would not have been able to have the careers we've had. None of us here at Alberta Ballet, past or present, would have had the opportunity to follow our passion and dream, to dance and perform, if you all hadn't bought tickets, donated, and applauded. All I can say is thank you from the bottom of my heart.
A: Reilley - Thank you for always supporting us as both dancers and as individuals. We feel very loved and supported by all our patrons. Alberta Ballet has always had a family atmosphere and feeling. It was never just amongst the dancers or contained within the walls of the building. Our donors, subscribers, and every person that comes to watch the ballet has helped build that sense of community and feeling of family and to be a part of that is something that I will always be grateful for.
Q: What's next for you?
A: Kelley - Time to decompress and reflect on my life…where I came from and where I have gone, so that now I can head to where I'm going to go.
A: Reilley - In January I started as the Artistic Coordinator for Alberta Ballet. I am very excited to be staying in the Alberta Ballet family and helping the Company behind the scenes.
Q: What do you hope people remember you for?
A: Kelley - All I hope is that I was able to touch and move as many people as possible.